Say Good Bye to Cards and Dispensing Machines
No Tickets at the Entrance
Less Capital Investment & Operating Cost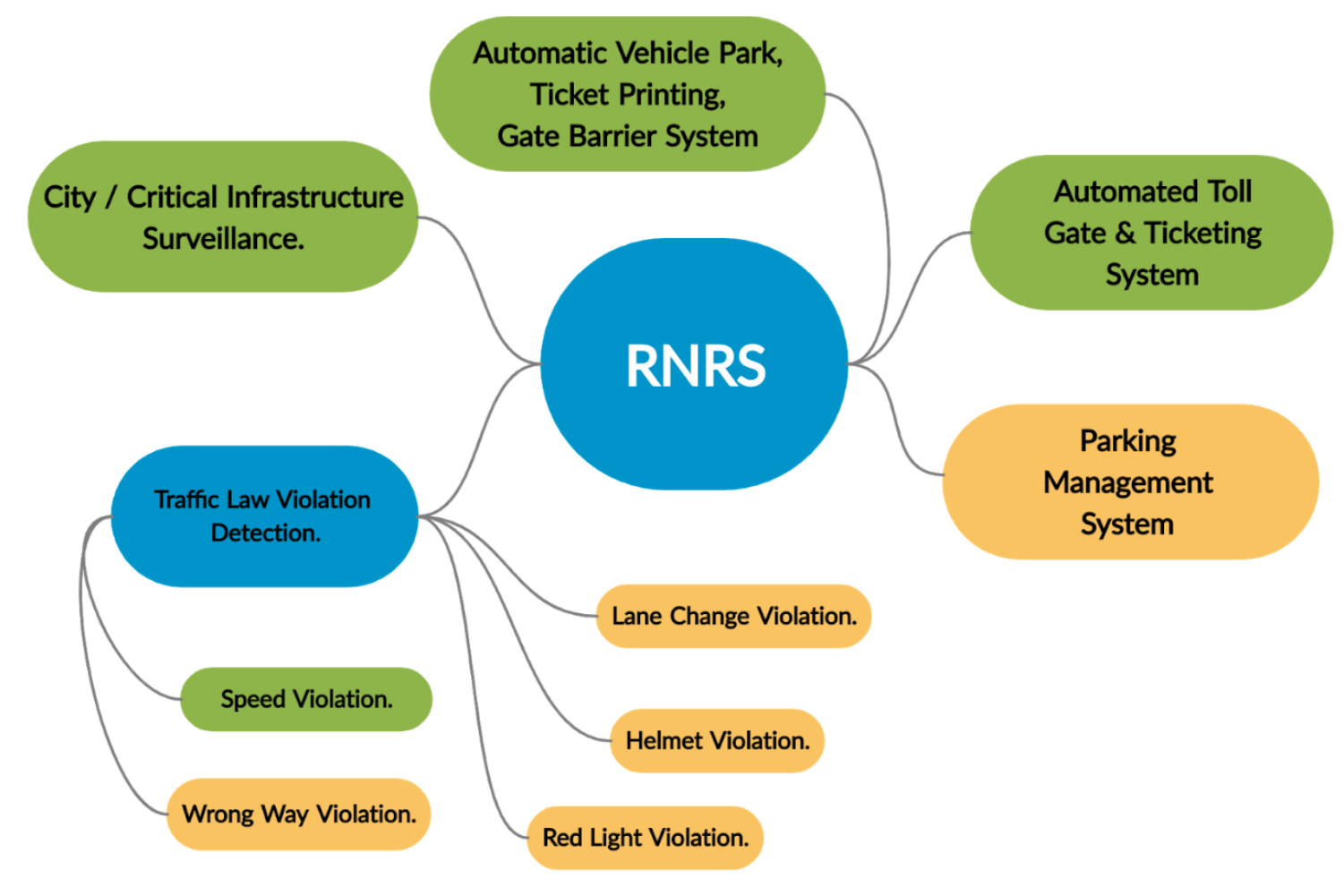 City Surveillance / Crime Prevention
The world is moving towards creating safe / smart cities. City surveillance / Crime Prevention is considered the basic step towards creating safe cities. RNRS City surveillance system can help authorities to track down vehicles used for any crime such as drug trafficking, underworld activities, robberies, hit and run vehicles etc. Authorities can be immediately alerted when a suspected / interested vehicle passes through the critical locations. The historical location of the vehicles, routes they have used before the crime, owners of the vehicle etc could have been traced down immediately with a touch of a button after inputting the registration number into the system. The system can feed the authorities online when it passes through the next critical point so that they can deploy officers to apprehend the vehicle.
Traffic Law violation detection system
Road indiscipline can cost a country a huge amount of limited resources and it is a national problem particularly for developing countries where road discipline is in very poor state. It is also widely accepted that road discipline reflects the overall country situation and therefore the government has to look at unmanned intelligence system to address this problem. 24*7 manual systems and processes presently in place fail to meet expectations by default. Traffic Law violation detection system can assist authorities to monitor and detect violation such as;
Red light Violation Detection.
Illegal Lane Change Detection.
Speed Violation Detection.
Helmet Violation Detection.
Parking Management System
Requirement for Automatic vehicle parking management systems has been felt with the increase of vehicle population to ensure safety, security of customers and efficiency of the vehicle park operations.
The intelligent and smart RNRS camera based Vehicle Parking Management system is available with key features such as;
LED Display guiding and driver assistance system.
Parking rule violation alerts system.
Find my vehicle.
Dashboard monitoring system for the Administrator.
Report Generator.
State of the art Vehicle Registration Number plate Detection and Recognition
Combining innovation and technology, AI & Vision Solutions delivers state-of-the-art services that include the Registration Number plate Recognition System (RNRS) – a pioneering innovation using a combination of AI and machine learning(ML) in Sri Lanka. This system has the ability to identify distinguished characteristics of a given vehicle, at any time and place – such as vehicle registration plate numbers with relevant timestamps and camera locations. All data collected is stored in a secure database and is analysed for future use.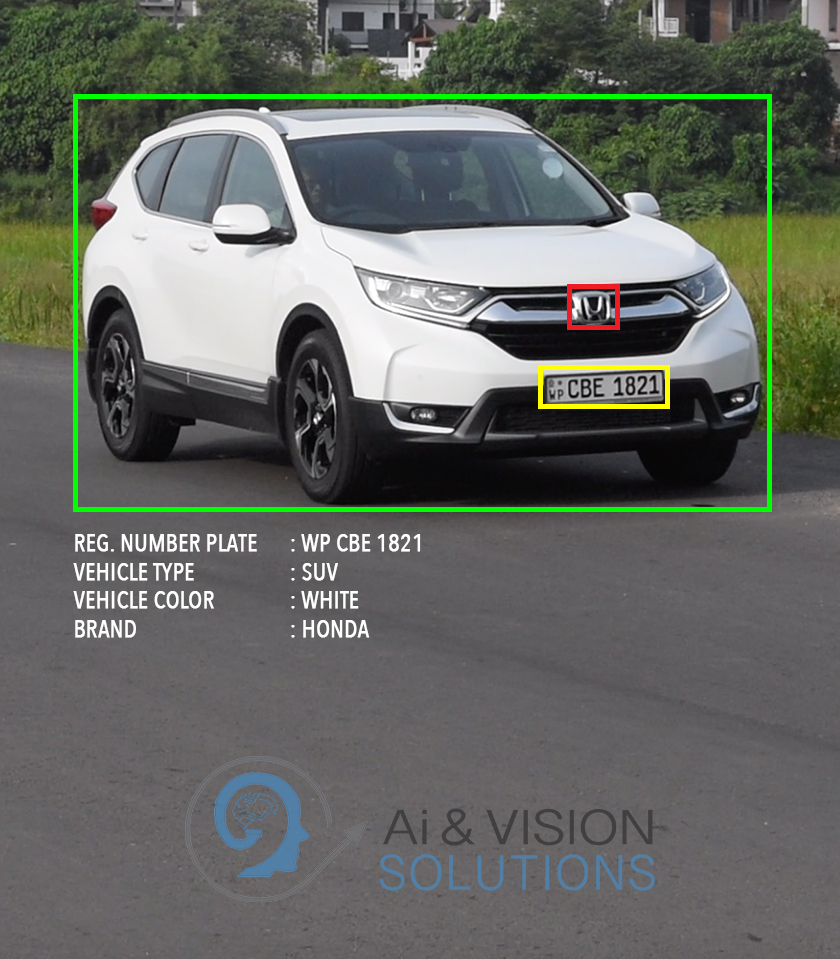 Our offer to vehicle parks is Automatic Ticket Printing and Barrier Gate system together with Surveillance
When a vehicle approaches the gate, the system detects and recognizes the Vehicle registration number and saves data in a secure database with details such as Reg no ( including province identification letters, special numbers with sinhala letters such as "යුහ,නාහ,ගුවන් " etc), time of entry, time of exit, time spent in the park, image of the vehicle, image of the registration number plates etc.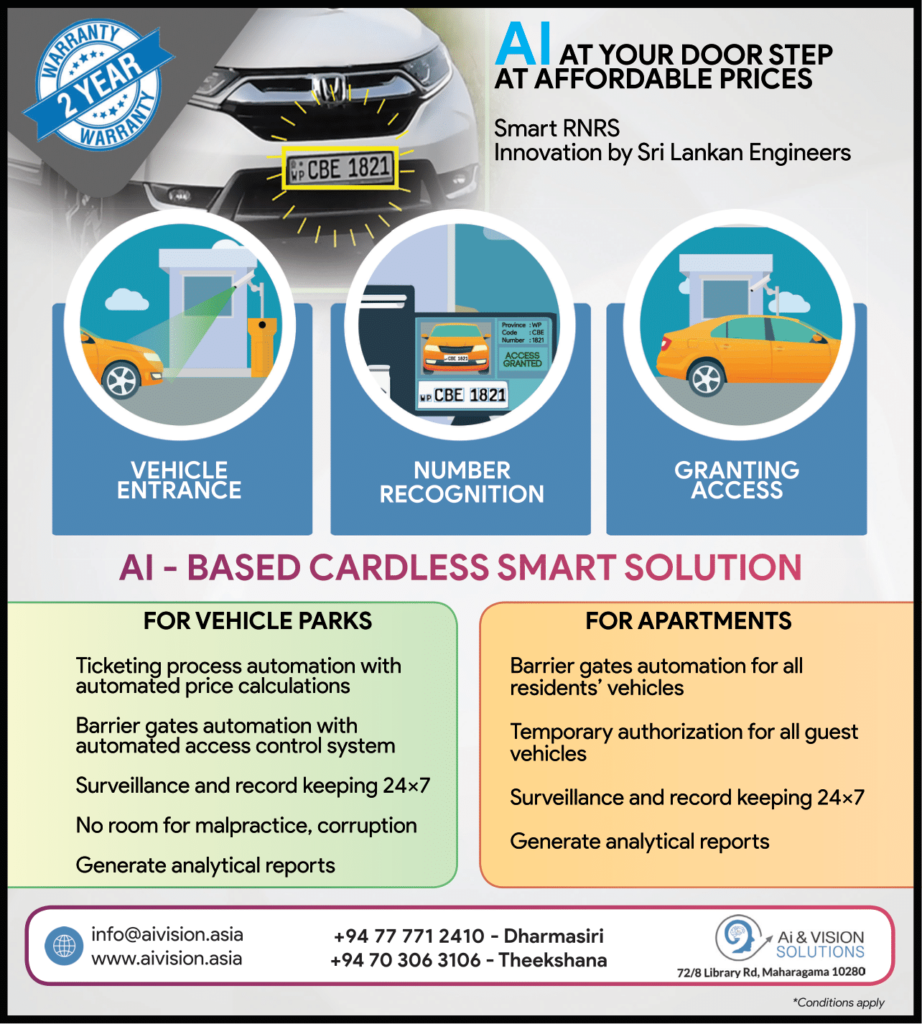 Traffic Law violation detection system
Road indiscipline has been a costly issue particularly for developing nations. The road disciplines in the subcontinent countries are known to be in a very poor state. Our solution combined with RNRS Software towards this problem is ready for deployment after very successful off sites and pilot tests. Authorities can implement the solutions after two months of actual tests on public roads.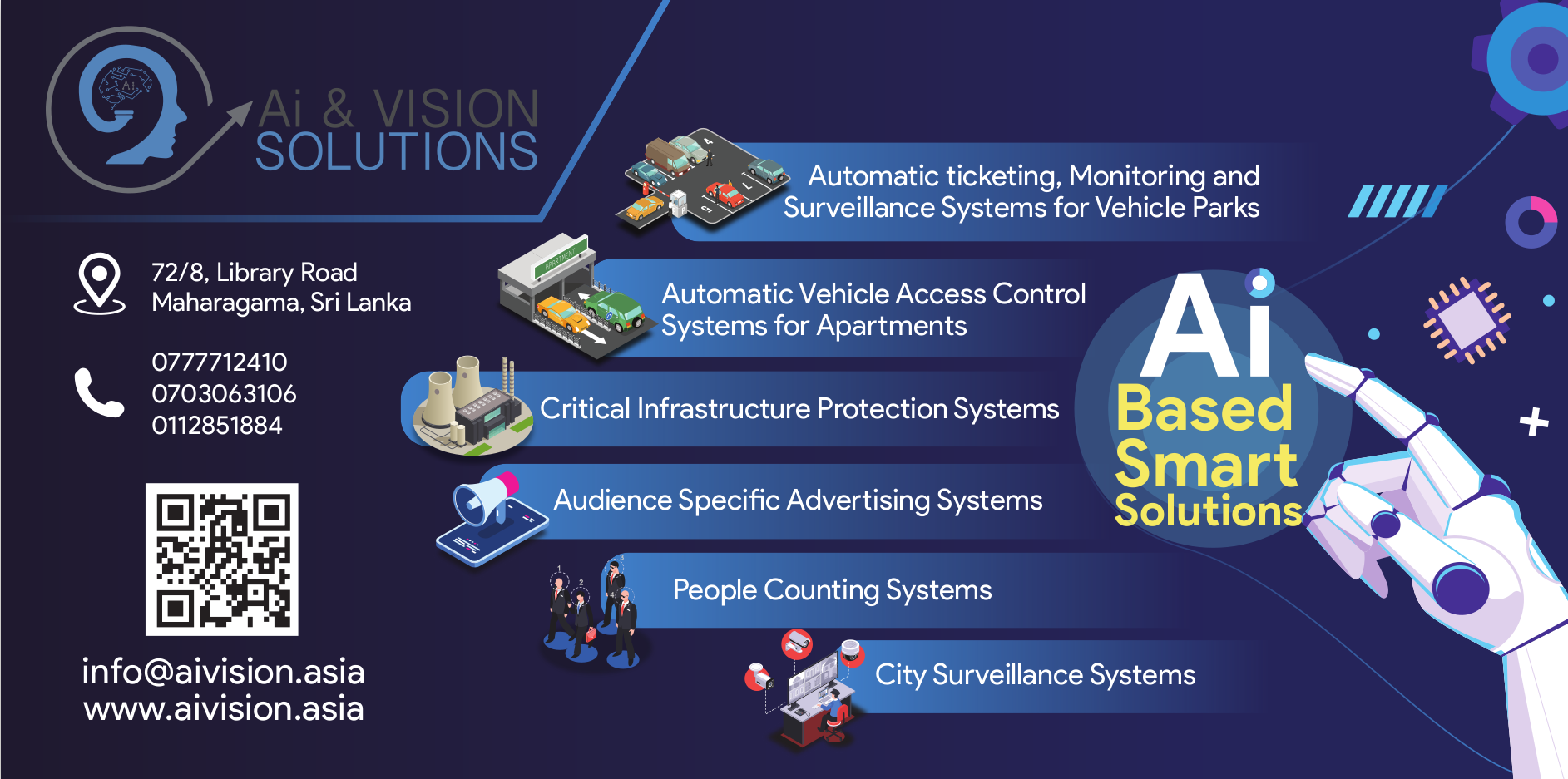 Zero daily theft in my vehicle park
I had doubts always about my daily collection compared to my capacity and traffic flow in the vehicle park. I was looking for a suitable system for a long period and came to know about RNRS smart vehicle park automatic ticketing and surveillance system offered by AI & Vision Solution ( Pvt) Ltd. The system generates daily, weekly and monthly collection reports with details that help us to reconcile collections daily. I can view all the reports including collection reports via my phone and laptop. The cashier / fee collection officer has absolutely no control over the system, it runs on its own and produces an accurate total collection for the period.
Its so convenient
The system has so many features such as web access, dashboard, allowing exemptions, discounts, searching for an interested vehicle, black listing when required and a report generator to name a few. The report generator produces very useful analytical reports automatically customised for my requirement. Training the staff with the operating manual provided has been easy to follow. Bulk of my vehicle park operating and management issues are now being taken over by the RNRS system and it is so convenient.